We put this rally on your radar yesterday.
We showed you why silver is set to do even better than gold as the rally continues to play out.
And we urged you to buy some physical silver – either bars or coins – to profit from the uplift.
In today's dispatch… how you can outperform physical silver by five to one by investing in silver mining stocks.
E.B. heads up our Strategic Investor and Strategic Trader advisories.
And he's one of our top precious metals investing experts here at Legacy Research.
E.B. is on the board of a precious metals company. And before joining the Legacy team, he comanaged a fund that invested in precious metals mining stocks.
That makes him one of the first people I (Chris) call when there's a big move higher in the precious metals market… especially when it comes to the nuts and bolts of how to play it.
E.B. is a fan of owning physical silver – coins and bars – first. But if you're looking for a pure speculation, he says silver stocks should be on your shopping list.
That's thanks to the leverage they give you over the silver price.
It means when gold or silver goes up by 1%… precious metals mining stocks go up by more than 1%.
Sometimes a lot more.
Here's E.B. on where that leverage comes from – and how powerful it can be…
Say the price of silver rises from $16 to $20. That's a 25% gain. If you own physical silver, you're up 25%.

Now, say a mining company owns 10 million ounces of silver in the ground, and silver is trading at $20. The value of the silver in the ground isn't simply $200 million (10 million ounces x $20 per ounce). Instead, the silver in the ground is worth much less than that, because it will cost a lot of money to extract.

Say it costs the company $14 per ounce, all-in, to mine the silver. At a silver price of $16, the company has a profit of $2 on each ounce of silver it mines.

If the price of silver rises to $20, the profit per ounce of silver mined just went from $2 to $6. That's a 200% increase in profit from a 25% rise in the price of silver.
That's why for every jump in the price of silver, silver mining stocks tend to jump even higher. Their margins thicken and more of their revenue falls to the bottom line.
It tracks the price of silver bullion (black line) back to the start of the month… when the price of the metal started to pop.
And it plots it against the share prices of three top-tier silver mining stocks – Pan American Silver (PAAS), First Majestic Silver (AG), and Fortuna Silver Mines (FSM).
As you can see, silver bullion is up 8% since the start of the month.
Contrast that with the share prices of the three silver miners…
Pan American Silver (blue line) is up 24%. First Majestic Silver (green line) is up 27%. And Fortuna Silver Mines (yellow line) is up 39%.
That's between a 3x and 5x return for miners over the silver bullion price.
Something E.B. keeps a close eye on is the relative performance of the "junior" and "major" miners.
And right now, it's signaling to him that there's plenty of upside ahead – even after the monster gains this month in silver stocks.
Here's how E.B. explained it…
The majors are well-capitalized companies with a number of mines already in production. The juniors are the more speculative category of precious metals mining stocks. These are less well-capitalized companies that are typically in the business of exploring for new mines.

If a major silver miner discovers one more deposit, it's not that big a deal in terms of its overall value. But for a junior, a new deposit means a significant increase in production. And that moves the needle on its share price. So in a speculative boom, you typically see the juniors surge ahead of the majors.
Since the start of the year, the major silver miners have outperformed the juniors.
The next chart looks at two popular silver miner exchange-traded funds (ETFs) over the past 12 months.
The first is the iShares MSCI Global Silver Miners ETF (SLVP). It tracks the performance of major silver miners. The second is the ETFMG Prime Junior Silver ETF (SILJ). It tracks the performance of the junior silver miners.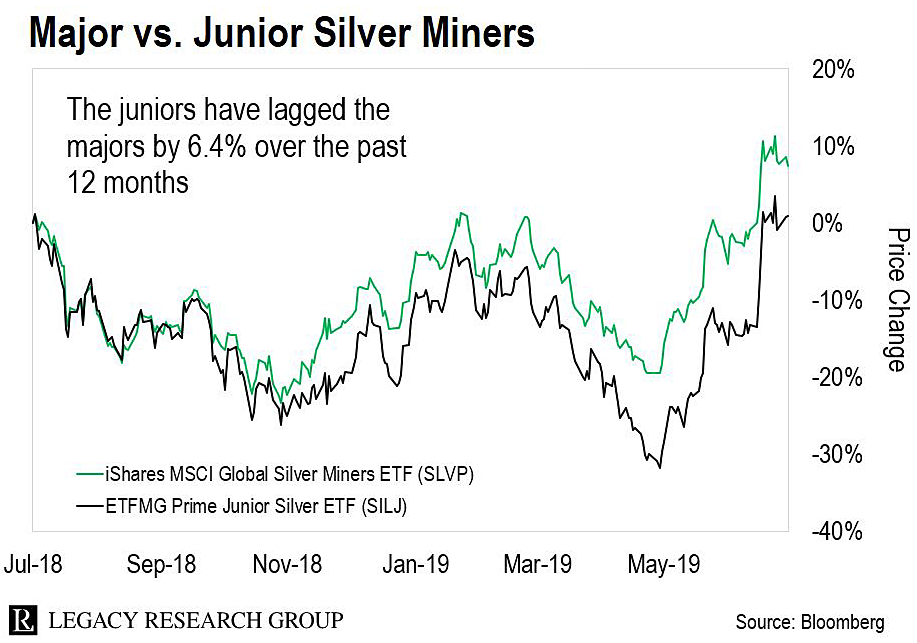 As you can see, the majors (SLVP) are up 7% over the past 12 months. By contrast, the juniors (SILJ) are flat.
E.B. again on what to make of it…
That the juniors are lagging the majors in the current rally is telling. It tells us the speculators haven't jumped in… yet.

The serious money – made up of professional investors, institutions, and industry insiders – is flowing into the majors. That's lifting prices.

But it's nothing compared to the rally we're going to see when the speculators join in. And given the recent price action in silver stocks, that's a matter of when, not if.
In other words, it's not too late to play the silver rally. But what's the best way to do it?
If you're a subscriber to that letter, you can catch up on his latest recommendation here.
If you're not yet an E.B. subscriber, focus on well-run silver companies with the fattest profit margins.
And remember, all silver mining stocks are highly volatile. Leverage isn't a free lunch. It works on the downside, too. When the price of silver falls… silver mining stocks fall faster and further.
So don't risk much on each position. And never speculate with money you can't afford to lose.
Regards,
Chris Lowe
July 30, 2019
Lisbon, Portugal
P.S. If you're a Legacy Lifetime member like Lynne S. above, you already have access to Early Stage Trader – Jeff's newest advisory. His focus there is to help ordinary investors get in on early-stage tech companies alongside venture capital firms.
If you're not a subscriber yet, there's still time… Catch the replay of Jeff's summit right here to see what it's all about. But hurry, it goes offline tomorrow.