Take West Texas Intermediate (WTI) crude oil. It's the U.S. benchmark.
It shot up from $45 to $61 a barrel in 2019.
That's a 35% gain. U.S. oil prices haven't shot up that much since 2016.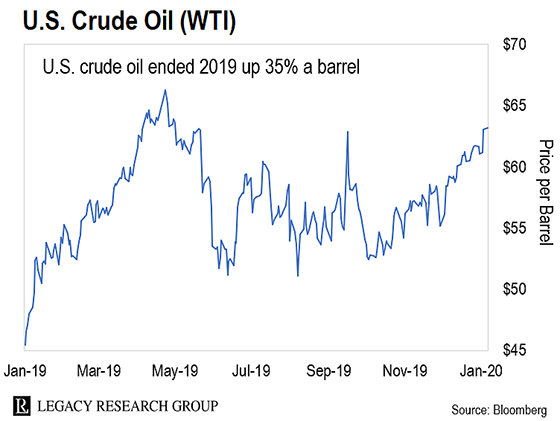 And our crisis investing expert, Nick Giambruno, says spiraling military tensions between the U.S. and Iran could send U.S. oil prices to $150 a barrel.
That's a 137% gain on today's price.
As you'll see in today's dispatch, this makes crude oil one of the most promising speculations in 2020.
And oil isn't the only asset set to head higher as the Iran conflict boils over. Our favorite form of "disaster insurance" here at the Cut – gold – is also headed higher.
Last Friday, in the dead of night, a U.S. drone rained missiles on a convoy traveling along a street close to Baghdad International Airport in Iraq.
It was carrying Iran's top security and intelligence leader, Qassem Soleimani. It was also carrying at least six Iraqi militia leaders hostile to the U.S. presence there.
President Trump gave the orders for the strike.
Soleimani was head of Iran's Quds Force. It's the country's elite special forces unit. Think the CIA and U.S. Navy SEALs rolled into one.
The Quds Force has been responsible for nearly every attack against U.S. forces in Iraq since the toppling of Saddam Hussein. It's also played a key role in propping up Syrian dictator Bashar al-Assad in Syria.
He's a revered war hero. And he was only second in line, after the country's "supreme leader," Ali Khamenei.
In addition to being the Quds Force chieftain, Soleimani effectively ran the country's defense and foreign policies.
We're not going to get into the politics of his assassination. We'll leave that to the folks in the mainstream media and the keyboard warriors on Twitter.
Our mission is to figure out what's going on in the world… so you can protect and grow your wealth.
That's the key takeaway from Nick… as Iran seeks to avenge the assassination.
As regular readers know, he heads up our Casey Report and Crisis Investing advisories. He also lived in the Middle East for several years. And he's our go-to expert on the region.
You've probably seen stories in the media about how Iran's army is no match for the might of the U.S. military. That's led some folks to conclude that Iran won't strike back. But as Nick told me, Tehran has other ways to exact its revenge…
The Iranians aren't fools. They know their military is no match for the U.S.' So Iran's military uses unconventional and asymmetric warfare techniques. These are designed to level the playing field against a superior enemy.

And Iran holds a powerful strategic card. It can close the Strait of Hormuz, the most crucial oil chokepoint in the world.
As Nick warned in these pages, five of the world's top 10 oil-producing countries border the Persian Gulf. They are Saudi Arabia, Iran, Iraq, the United Arab Emirates, and Kuwait.
That covers roughly one-third of the world's oil supply. And the narrow strait (only 21 miles wide at its narrowest point) is the only sea route to the open ocean… and world markets.
Every single oil tanker leaving or entering the Persian Gulf has to pass through Iranian territorial waters.
And Iran could do all sorts of things to shut down the flow of oil exports out of the Persian Gulf. Nick again…
The Iranian navy could use sea mines, which are extremely cumbersome and deadly to remove. It could also easily overwhelm the U.S. Navy with hundreds of swarm attack boats.

Iran also has advanced anti-ship ballistic missiles that could easily sink U.S. vessels from onshore. It also has miniature submarines that are very hard to detect. U.S. military strategists have known about this problem for decades. And they haven't found a realistic way to neutralize Iran's power over the strait.

Now, Iran and the U.S. are headed toward a confrontation that will almost certainly disrupt the strait. Oil prices spiked 3% immediately after the assassinations. This is just the beginning. If a full-scale war between Iran and the U.S. happens, I'd expect oil to easily exceed $150.
That translates to a 137% shot higher for oil. And a speculation on oil stocks could work out even better.
Nick has found four companies that will soar once this trend kicks into high gear. You can find out more about them right here.
Just remember never to speculate with money you can't afford to lose. And keep your bets small. If Iran shuts down the Strait of Hormuz, even a small grubstake will pay off handsomely.
Since the news of the assassination of Soleimani broke, gold has leapt higher.
As you can see, it's up 2% since the news broke. And it's now well above the psychologically important $1,500-an-ounce mark.
As we've been showing you, gold is "disaster insurance." As fear and uncertainty rise, so does the gold price.
That's what's happening now. Investors are sniffing out trouble on the horizon.
So if you haven't already, now is a great time to buy some physical gold. For more on how to do that, follow Casey Research's free guide here.
Regards,
Chris Lowe
January 6, 2020
Dublin, Ireland
P.S. In our Casey Report advisory, Nick has four of the world's top oil companies set to benefit from rising tensions in the Middle East in his model portfolio. Buying these names is the best way to play the unfolding crisis with Iran. They check both boxes… They've all weathered rough times in the industry, and they have minimal to nonexistent exposure in the Middle East.
If you're already a Casey Report subscriber, you can read about them in the July 2019 issue right here. If you're not a subscriber yet, go here to lock in your subscription today.